VIP NATURE NURTURE EXPERIENCES with wolf ambassadors
Watch the video to get a taste of the magic that happens when you bring people together with wolf energy and the beautiful tones in an intimate Sound Bath with the Apex Pack as they wander in and around us in meditation.
a truly a magical day.
NATURE NURTURE EXPERIENCES WITH GOATS
Unique Events that bring Mindfulness Meditation & Sound Healing, Nature and Animals together for a reboot, relaxation, stress relief, connection with like-minded people to bring us into our playfulness, joy, hope, curiosity, adventurous big kid energy. Great for corporate groups to get away from the work environment and team building.
NATURE MEDITATION SOUND BATH WITH BABY GOATS ON A WORKING GOAT FARM IN SOMIS, CA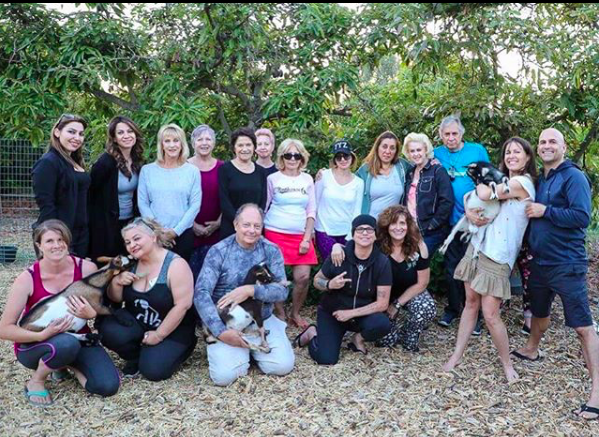 FLOWER MANDALA MAKING & MEDITATION SOUND BATH WORKSHOP WITH GOATS
NATURE HIKE WITH GOATS
Outings with the goats is a fun, out of the box way to reward your employees for a job well done, as well as team building with co-workers away from the office. A nature meditation hike with goats is a great way to de-stress, get a reboot in nature, connect into your creativity and playfulness and boost your immune system and clear your head for great focus and productivity.
CONTACT KIRSTEN BELOW FOR RATES & INFORMATION IF YOU WOULD LIKE TO PLAN A PRIVATE HIKE FOR YOUR GROUP, FAMILY CORPORATE TEAM OR EMPLOYEE RETREAT FOR A 2 HOUR REBOOT IN NATURE WITH ADORABLE GOATS.
NATURE NURTURE EXPERIENCES
A UNIQUE WAY TO BE IN NATURE WITH ANIMALS AND PRACTICE MINDFULNESS & SELF-CARE - GOOD FOR THE BODY, MIND AND SPIRIT.
Kirsten works with several Animal Organizations to create these unique events and help raise much needed funds for people who devote everyday to the care of animals. Some of the experiences include Spend A Day with the Wolf Ambassadors, Healing Day with Goats and new adventures to come with some exotic animals in 2018. These take place in and around the Los Angeles area.
Private, Couples or Small Groups up to 12 people. Great for special events, birthdays, corporate retreats or with a group of family and friends.
Experience an intimate healing day in nature. You will get an intimate experience with them, enjoy dinner & wine and finish the evening under the stars with a private soundbath.
Individual Sound Healing mini session for each participant can be added to your VIP experience to make it extra special. We can tailor the experience for your group to include individual sound healing mini sessions for each participant and can create a meal that accommodates vegans or vegetarians as well as non-alcoholic drinks for your guests to sit and enjoy by the fire pit.
TO BOOK YOUR OWN PRIVATE OR GROUP VIP NATURE NURTURE EXPERIENCE FOR A SPECIAL OCCASION, CORPORATE EVENT, FAMILY & FRIENDS
TO REQUEST INFORMATION OR A QUOTE PLEASE SUBMIT BELOW AND INCLUDE ANY INFORMATION ON DATES, # OF PEOPLE, ETC.